CAPA Manager 8D Software
Manage internal and external quality events with CAPA Manager 8D software. Trusted by thousands of users globally, this is one of the best Root Cause Corrective Action reporting applications available.
Efficient 8D reporting
CAPA Manager Root Cause Corrective Action software automates the assignment, notification, investigation, reporting, and approval of corrective actions. It error-proofs the control of the entire 8D process, from initiation to investigation and through to closure.
RCCA (Root Cause Corrective Action) software in the cloud
Easily connect your teams, remote sites, and supply chain through a single corrective action system. Geographically separated groups can simultaneously interact with active investigations keeping everyone connected.
Compliant investigation management
CAPA Manager meets the requirements of all important quality management standards like 21 CFR part 11, AS9100, RM13000, TS16949, ISO9001 and more. It keeps records of root-cause and corrective action while providing pre-defined workflows and approval gates.
See all improvement activities in one place
Track investigation progress such as customer complaints, audit findings, quality control events. Get a real-time view of the corrective action status so you can proactively report on Quality improvements.
8D software for investigation management
CAPA Manager 8D software offers investigation control in the cloud. Assign new issues to both internal employees and external suppliers instantly. CAPA Manager guides the user through the 8D investigation workflow: Investigation request, containment, root cause analysis, and permanent solution deployment. Full 8D investigation reports can be generated instantly by a single mouse click.
Instant visibility of investigation status, ownership, and actions
Manual or paper-based issue investigation processes can be inefficient, slow and difficult to measure. CAPA Manager 8D software provides instant issue management for your customers and suppliers. Investigation status is instantly available for review to make tracking problem resolution easy.
CAPA Manager also provides total visibility for you and your improvement teams. Capture issues, conduct investigations, implement changes and track status instantly. See who's responsible and what's been done. A simple user interface helps track each investigation through to closure.
8D software designed for the user
CAPA manager helps organizations investigate issues quickly. It's low cost, high impact and easy to use. Our partners tell us it's the most effective 8D software on the market today.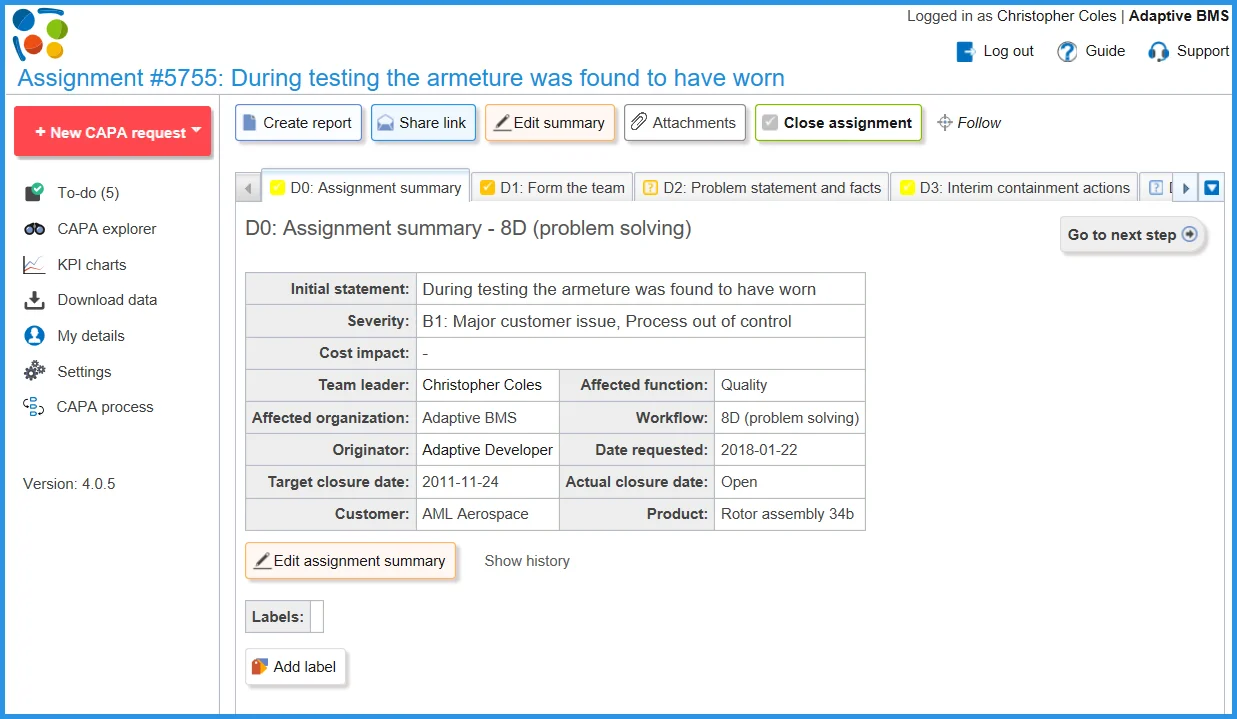 Maximum team engagement
CAPA Manager 8D software is intended to be simple and easy to use. This dramatically reduces the need for expensive training and allows for instant deployment. With CAPA Manager, you can start working with your supply chain on issues within minutes. We have designed this powerful software to enable total user engagement right away.
Improves issue communication
Instant Corrective Action reports
Quick and inexpensive to deploy
Activate your Free Demo account today!
The best way to evaluate CAPA Manager 8D software is to use it. Join thousands of other users by taking advantage of our instant free demo: